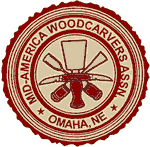 A Welcome From the President

It is my pleasure to welcome you to the Mid-America Woodcarvers Association website. To have survived and grow as an effective organization since 1974 is a remarkable testimony to the many men and women who provided the leadership since we were started  Their commitment to keeping the vision of its founders alive deserves much credit. Our Founders have left their footprint of wood art across the Midwest region. Many are now being replaced with a new generation of carvers who are creating their own footprints using more modern carving skills and techniques.

Our mission today has not changed. The club continues to prompt and advance all types of wood carving skills among its members. Moreover the membership promotes woodcarving, wood sculpture, and wood art as art forms in communities throughout the Midwest and other parts of the United States.

Mid-America Woodcarvers Association membership meetings are held on the first and third Saturday of each month.  These meetings begin at 9:00 a.m. in the east side lower level of Augustana Luthern Church. The Church is located at 38th and Lafayette Streets in Omaha, NE. All levels of carvers as well as newcomers regularly attend these meetings. As president of this prominent woodcarving organization I want to extend an open invitation for you to join us at any of our Membership meetings. I'm sure you will experience a rewarding day.

This website is designed to share information with the members of our organization and to provide online users with a view of our continuous activities. With a new vision of excellence, we plan to improve this oganization. Working together we want soar to new heights. If you have any questions regarding our organization please feel free to contact us via the forms on the contact page.

Sincerely

Rohn Collins

President Mid-America Woodcarvers Association

Mid-America Woodcarvers Association

Omaha, Nebraska